Thanks for your work curating the exhibition "Art for the Future: Artists Call and Central American Solidarities". In your research into the Artists Call archive, what did you learn about the goals or mission of the artists in the group?
Artists Call began through the initiation of a Salvadoran exile living in New York named Daniel Flores y Ascencio. In 1982, he started the Institute of Arts and Letters of El Salvador in Exile (or INALSE). He was interested in drumming up support for El Salvador and exiled Salvadoran artists, like himself, who were struggling to make sense of the revolution in El Salvador. So, he put out a call to about 50 artists and cultural workers, largely in the New York art world, and about 25 showed up to a meeting at the loft of artist Herb Perr. What Daniel initially wanted to have was an art exhibit and action at the United Nations in support of peace in Central America.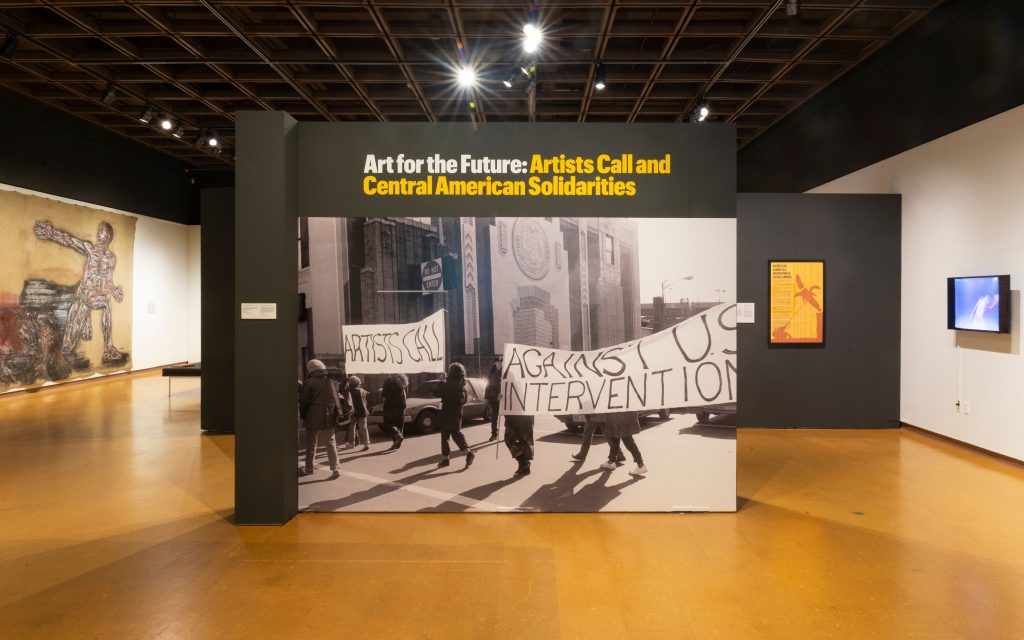 His letter went out in May 1983. At this point, Ronald Reagan is President, and his administration is sending weapons and money to the Salvadoran government in support of their war against a rising revolution. The administration is also supporting the Contras in Nicaragua against the Sandinistas, who had ousted the Somoza government in the 1979 revolution. The administration is also supporting the Guatemalan government's genocidal acts against the Maya.
In that context, the gathered artists decided that what was needed was to work against U.S. intervention and in support of Central American self-determination and sovereignty. The group decided to put out a call not only to artists but also to institutions. This call essentially was asking for monetary donations and also art to be sold at a benefit for the Sandinistas and for El Salvador's National University. The art could be about Central America but it didn't have to be. They weren't necessarily looking for political art. It could be just the art that you were making in that moment.
The letter got support from over 1,100 artists. They ranged from blue chip artists to unknowns. They also garnered support from around 31 art institutions, that ranged from alternative spaces like ABC No Rio to Metro Pictures and Leo Castelli, commercial galleries that don't usually support political causes. And then the campaign grew beyond New York through the advocacy of activist and writer Lucy Lippard, who contacted people she knew across the U.S. and Canada. All these cities put on their own version of Artists Call.
The slogan on the poster that Claes Oldenburg designed for Artists Call sounds like a rallying cry for artists to get involved.
The poster lists the artists and institutions involved, and it includes a kind of mantra: "If we can simply witness the destruction of another culture, we are sacrificing our own right to make culture. Anyone who has ever protested oppression anywhere should consider the responsibility to defend the culture and rights of the Central American people."
Artists Call wasn't looking for specifically political art. They wanted to work against the polarizing logic that said if you weren't making political art, you had nothing to say, and that tried to pit art against politics. The artists were thinking about how to build solidarity across generations, nationalities, ethnicities and racial boundaries. It was a real coalition of people coming together to imagine a different world and a different art world as well.
Artist and activist Juan Sánchez says in an interview in the exhibition catalogue that Artists Call "opened the floodgates for more artist manifestations like Art Against Apartheid, Art for Nuclear Disarmament, around AIDS and other issues." How do you see the influence of Artists Call today?
Artists Call was a short-lived activist campaign, intentionally so. It was mostly active from around January to May of 1984. In fact, that May, there was a meeting at Leon Golub and Nancy Spero's studio about what should happen to Artists Call. After a lengthy discussion, it was decided that that Artists Call should not take on an institutional identity. The campaign therefore disbanded and the participants went on to do different things. Over time, Artists Call was largely forgotten.
I first became interested in Artists Call around 2014. It was at this same time when, here in south-central Texas, where I live and teach, there was a surge of unaccompanied minors crossing the U.S.-Mexico border. This crossing of Central Americans into the U.S. wasn't new but this was a moment when a sharp surge was happening. There was a tendency in the news, particularly in Texas at that moment, to talk about that surge as an immigration problem. That framing, however, detached what was happening along the border from the longer history of US intervention in the region that has structurally impacted why these migrants from Central America were clandestinely crossing and then seeking asylum along the U.S.-Mexico border.
Artists Call, for me, was a chance to go back and look at the 1980s, when the Reagan administration used the pretext of communist containment to put in place U.S. interventionist policies, both overtly and covertly, in Central America. But at the same time this was happening, in New York City, over 1,100 artists—including some of the biggest names in the art world— came together to protest these policies and stand in solidarity with Central American self-determination, more broadly. This support may have been only short lived, but to me it signaled commitment around a political cause that spoke to the present moment and I think it continues to speak to our current crisis of the border today, which remains unresolved.
While I do not think artists are going to be the ones to come up with policies to solve this crisis, I do think they can show us ways of coming together and imagining different worlds to live within.
Is it correct to say that Susan Meiselas's photos were an important source of information for Artists Call?
Absolutely. Many people in the U.S. first learned about the insurrection in Nicaragua when her photograph appeared in 1978 on the cover of The New York Times Magazine. One of her photos also accompanied an article in The Washington Post in 1981 about the El Mozote massacre in El Salvador. In addition, Susan knew many of people in Artists Call. She was friends with Lucy Lippard, her images had been included exhibitions by the artist collective Group Material, and she also helped organize an exhibition of photographs of Central America for Artists Call.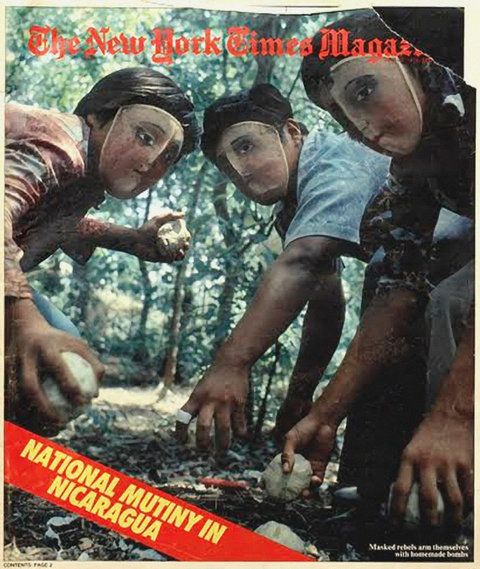 It's also important to point out that Artists Call gained knowledge from Central Americans living in New York. Besides Daniel Flores y Ascencio, Artists Call worked with the New York chapter of the Committee in Solidarity with the People of El Salvador. They also learned from an organization called the Network in Solidarity with the People of Guatemala.
In the catalogue, you note that disinformation was a problem in the 1980s as it is today, in our "post-truth" era. How so?
Disinformation was a term that resonated in the 1980s. Many people talked about disinformation at this time in terms of how the Reagan administration used the so-called containment of communism as a strategy to legitimize U.S. intervention in Central America. A classic example of this is the use of a photograph that Susan Meiselas took in Nicaragua following the triumph of the Sandinistas. A member of Magnum Photos, she took this photograph and released it to the press with the caption "distributing free meat and milk. Matagalpa, July 1979." Then, in 1983, that same photograph gets republished in Business Week, where the editors essentially disregard the description that Susan had provided, and instead caption the photograph, "Nicaraguan citizens form lines outside government supermarkets awaiting food rations." This shows how the editors at Business Week essentially change the meaning of the photograph so that now it advances the Reagan administration's narrative about oppressive and undemocratic measures being taken in Communist-led Nicaragua. This was a frequent occurrence in the press.
What were some of the ways artists responded to the problem of disinformation?
Artist Hans Haacke had read a New York Times article about the U.S. invasion of Grenada, which the Reagan administration justified under the auspices of protecting US citizens and freeing them from revolutionaries. The article said over 1,000 Grenadians and Cubans were detained and interrogated in cube-like isolation chambers made out of wood. The article showed a photograph of prisoners being taken in blindfolds to interrogation, but not the isolation chambers themselves. Haacke decided that, for his contribution to Artists Call, he would make one of the boxes. He called the New York Times writer to get the cubes' dimensions, and built the cube with small slits for air. He asked that the small cube be exhibited in a very large space so visitors could get a sense of what the prisoners endured. He was using the information in a news article to counter the disinformation being spread via the press.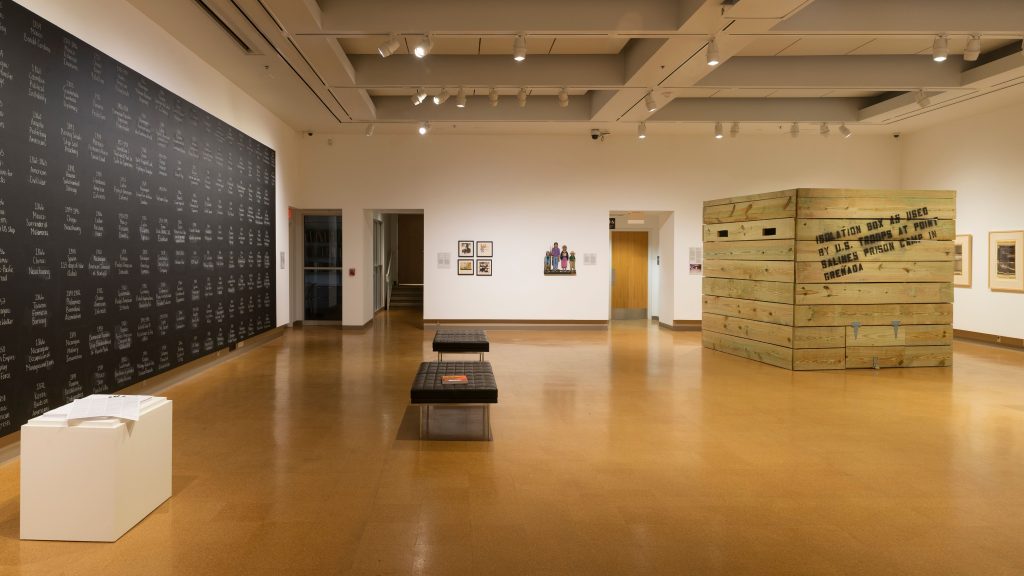 Let's turn from art protesting U.S. government policies to the U.S. government's use of images to promote a policy. In reading your book The Self in Black and White: Race and Subjectivity in Postwar American Photography, I was surprised to learn that Vice President Hubert Humphrey was involved in a photo exhibition to support the Johnson administration's War on Poverty. How was the show received?
"Portrait of Poverty," which was put on by the Office of Economic Opportunity in collaboration with Vice President Humphrey, is something that I encountered doing archival research. I was trying to understand the ways the government used photographs of African Americans to further the War on Poverty. Both Humphrey and Johnson believed that photography could emphasize the human face of poverty. It was based in a belief that a photograph could just transparently represent a person: If a person looked impoverished, they must be impoverished.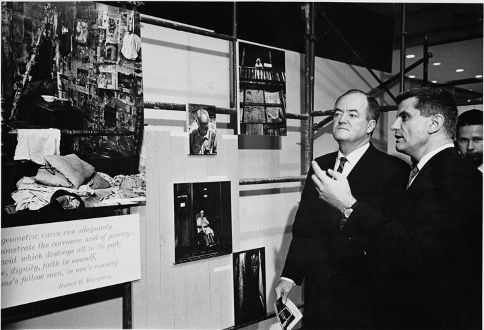 There were almost 500 photos in the exhibition. After visitors saw the photos of poverty, at the end of the exhibition they saw images of government programs that were trying to eradicate poverty. It was supposed to convince the public that government intervention could cure what was called "the culture of poverty."
The exhibition was seen by a lot of people, so it's hard to know all the reactions. But there was a lot of criticism. A major criticism was that the exhibition ignored entirely the structural reasons for poverty, including lack of financial opportunity and economic resources. It ignored them in favor of trying to present this image of the so-called "culture of poverty" that casts poverty as not only inherited but pathological, and creates a class of people who can't break out of the cycle.
To me this exhibition was also interesting for how it shows that photography is, in fact, quite slippery and contingent on context. So the very same photo by, say Bruce Davidson, that was shown in Profile of Poverty was also in a show organized by John Szarkowski at the Museum of Modern Art, where it's put to a different use, and then it's shown in a magazine article about the Civil Rights movement, where it has another use.
In The Self in Black and White, you describe many occasions when Black photographers and photographers of Black subjects were using photography for self-exploration or personal expression, yet photo editors or curators used their photos to illustrate pre-conceived ideas about Black anger, protest, or pathology. Why? And how did the photographers react?
One of the groups that I looked at was the Kamoinge Workshop. They came together because of the under-representation of African American photographers in the field. One of the few places that the Kamoinge Workshop's images appeared was in a portfolio published by the magazine Camera. Kamoinge was made up of a diverse group of photographers, thinking deeply about photography as a means of self-expression. Yet their photographs were published in this prominent magazine in a portfolio titled "Harlem." A number of the photos were not even taken in Harlem, but on the Lower East Side, where many of the photographers lived. We continue to see this tendency of essentializing photographers, especially African American photographers, and rendering their work one-dimensional, as if their photos can only represent one thing.
Photographers in Kamoinge had to navigate the ways in which their images circulated and were used to say very particular, one-dimensional things about the African American experience. The book was trying to understand how that impacted how they see themselves and the world.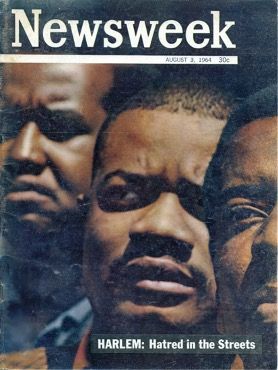 One example is when Roy DeCarava was commissioned in 1964 by Newsweek to make a photo of the Harlem riot. He essentially set up a photograph of members of Kamoinge that ended up running on the cover. It wasn't a photo of "angry rioters," as the headline on the article and the cover said. He photographed close-ups of the faces. Beauford Smith, a member of Kamoinge, told me who those faces were. That revelation made it imperative to look at how images of Black subjects circulated at the time and the ways that concepts about race were being formulated in relation to photography. It solidified for me the necessity of understanding the context in which photographers were operating,
I've always been drawn to how photographs circulate in various contexts and take on different meanings through their reproduction in these spaces. What brought me, in fact, to Artists Call was the use of Susan Meiselas's photographs from El Salvador in an exhibition organized for Artists Call by Group Material. I wanted to understand what these photographs, which Meiselas took for Magnum Photos, meant in an art-world context. I've always been interested in that contingency. It's not something that typically happens to a painting or certain types of sculpture. You don't see a painting appearing in multiple places at the same time. This contingency creates problems that I find interesting.
---
REFERENCES & RELATED READINGS:
• Art for the Future: Artists Call and Central American Solidarities, 6 Sep. 2022 - 3 Dec. 2022, University of New Mexico Art Museum, Albuquerque, NM. https://artmuseum.unm.edu/exhibition/art-for-the-future/
• Duganne, E. (2010). The Self in Black and White: Race and Subjectivity in Postwar American Photography. Dartmouth College Press. https://press.uchicago.edu/ucp/books/book/distributed/S/bo44893758.html#anchor-author-events
• Eckhart, Sarah. Working Together: Louis Draper and the Kamoinge Workshop. Duke University Press. 2020. https://www.dukeupress.edu/working-together
---
This interview was conducted by Holly Stuart Hughes, Independent Editor, Writer & Grant Consultant, Former Editor-in-Chief, PDN, in October 2022.